RPET luggage-ECO friendly recycled PET bottles material
Fashionable trolley suitcase to make your travel more easy !
RPET luggage set , RPET hardside luggage,RPET Trolley Suitcase,R-PET luggage set,
victorlite luggage,RPET hardside case,RPET hard suitcase,RPET hardside suitcase,RPET luggage set,RPET hardside luggage set,R-PET luggage,r-pet hardside luggage,R-PET suitcase factory,PET luggage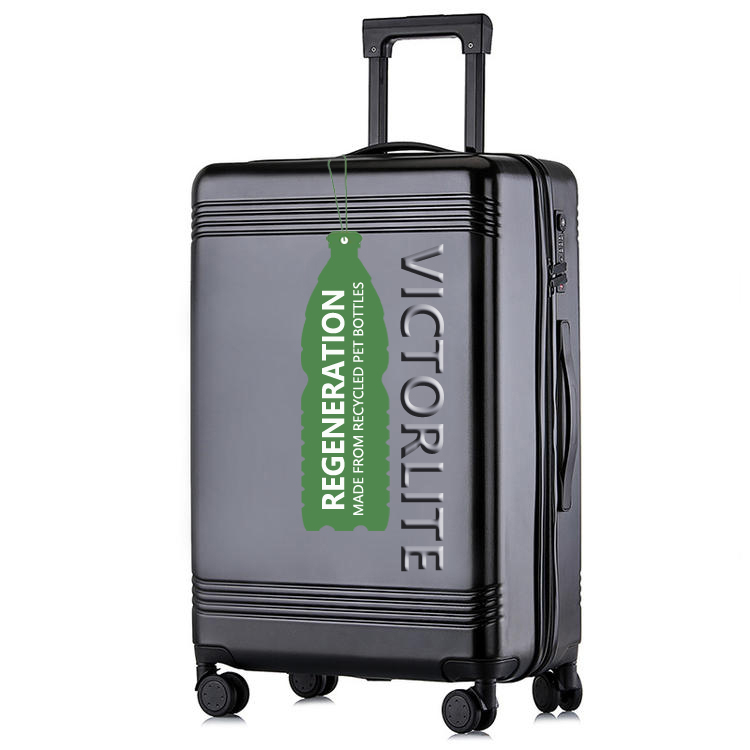 Size: 20" 24" 28"
Material: RPET -ECO friendly material
Lining:210D

Trolley : aluminium
Wheel: 4 caster wheels
Lock: TSA combination lock
Zipper: 8# main

Color: various color available
Logo: Customized
Eco-Friendly: this material is same with water bottle, very safe no pollution at all. and can be recycled. Not like ABS, ABS have too much pollution to the air.
hard & strong: this material has very hard nature, and excellent tenacity, it is very hard for a man to broken it without knives or other tools.
Fantastic appearance: as to its hard nature, this material have excellent anti-scratching ability. it will have excellent out looking even after months or years' using. and without extra protection films. metallic surface, fluorescence, reflective etc, all available. you can just image the luggage you want, it could be!
Cost Down: you may heard that now in China PC and ABS materials prices are increasing rapidly, this will effect the luggage cost heavily. many companies can not bear this increasing, But if you have PET, this will not happen. We have all production line from raw material to final products. so the price will be more competitive and more stable. And it is surely that in a few months, PC and ABS materials will cost much more, as China has already forbidden recycled PC and ABS import. you must know that most PC and ABS luggage are made of Rubbish/Recycled materials. But PET is clean and Eco-Friendly, no effect to environment, no limits to most countries.
#RPETLUGGAGE What is called RPET LUGGAGE, see below explanations from picture. We recycle CocaCola bottles and PET water bottles. And then we use high recycled technology to regenerate the PET material to be the luggage shell. This luggage are made from RPET material.So this luggages are ECO-friendly. Now more and more people prefer to use #RPETluggage instead of #ABSluggage or #PCluggage during their travelling.For more #RPETluggage, please contact me VIP@RPET-luggage.com
Victorlite luggage,#RPET Trolley Luggage set,#RPET luggage set,#RPET luggage set,
#R-PET luggage,#R-PET Trolley suitcase factory,#PET luggage factory